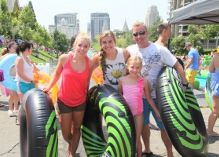 Finding fun things to do as a family is the best way to spend the summer!
When I saw Slide the City, I knew it would be the perfect idea for our family to spend some AMAZING time together. I mean, seriously?!? Riding down the city streets on inner tubes is so totally awesome.
And I had to share it with you too!
Because onn Saturday, July 18th - Thirteenth Street in Boulder, Colorado will be transformed as participants ride inflatables down this giant slide spanning three city blocks. With music, local vendors, and giveaways, this family friendly event promises to be a highlight of the summer.
My readers SAVE with promo code USFAM -- Get your tickets here!
https://secure.slidethecity.com/affiliate/usfamilyguide/boulder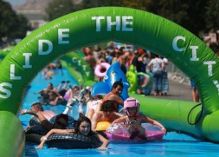 A portion of the event proceeds will be donated to Be Boulder. Alternative Breaks, a program of the Volunteer Resource Center, sends teams of college students (between 12-18 students) to engage in community-based service projects during each college break, providing opportunities for students to learn about the problems faced by members of communities with whom they may otherwise have had little or no direct contact. This immersion in diverse environments enables students to experience, discuss, and understand social issues in a significant way, ultimately, moving students towards action to make a positive impact. Students either fly or drive together from Boulder to their location. All costs for each trip are inclusive of food, lodging, side trips, a t-shirt, education and program fees.
Participants can purchase a one, three or unlimited slide pass. Tickets are now available, starting at $13.
Is there an age or height limit?
All who are over 46 inches tall and over 5 years old are invited to slide, but remember if you're under 18 you'll need to get a sign off from your legal guardians.
Are there group rates available?
If you have a group with 20 or more participants send us an email.
What do you do to address water conservation?
Water conservation is also a priority at our events. We strive to have zero environmental impact on the community. The Slide was designed to have zero water loss, and it treats and recycles the water safely and efficiently throughout the day. When permitted, we donate the water back to the community. Methods of disposal include local reclamation centers, parks, golf courses and other places dependent upon local regulations.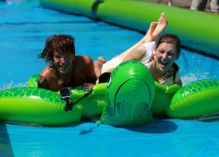 Don't forget, my readers will SAVE 10% with promo code USFAM - https://goo.gl/SxaefS